Dear visitors,

with great regret we have to inform you today, that the in-person edition of ITB Berlin 2022 will not take place as originally planned. Owing to the latest developments and accompanying directives as a result of the coronavirus pandemic, Messe Berlin is unable to afford its exhibitors and partners the necessary planning certainty with the holding of an in-person ITB Berlin in early March. The current situation surrounding the pandemic, as well as the tightened travel restrictions and limits imposed on the numbers that can take part in large events made Messe Berlin take this step.

We made every effort to make it possible to hold ITB Berlin as an in-person event again in the German capital. Particularly in these times, the industry needs orientation, inspiration and dialogue. With the livestreamed convention and Digital Business Day as well as our new regional travel events during the year, we are offering the industry a wide range of fascinating content and new business opportunities in 2022.

All stand bookings by main exhibitors for ITB Berlin 2022 will be cancelled and stand fee invoices already paid will be refunded. Orders for exhibitor and trade visitor tickets will also be cancelled or not invoiced. Daily updates on the new concept will be available from January at itb.com. For information on the subjects of cancellation, new conditions of participation, ticketing and the Digital Business Day please refer to the FAQs.

In March 2023 ITB Berlin will be back again with an in-person event. ITB Berlin 2023 will open on 8 March and in accordance with the wishes of all market players will take place on the Berlin Exhibition Grounds.


A personal statement by David Ruetz, Head of ITB Berlin: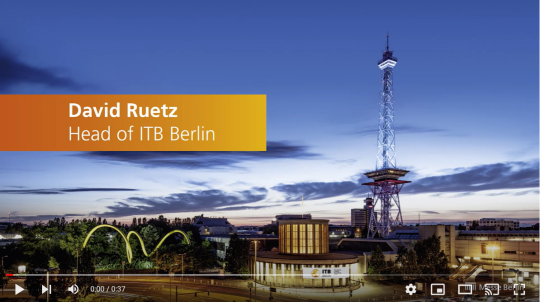 YOU HAVE QUESTIONS?
If you have any questions, please feel free to contact: itb@messe-berlin.de