---
Page content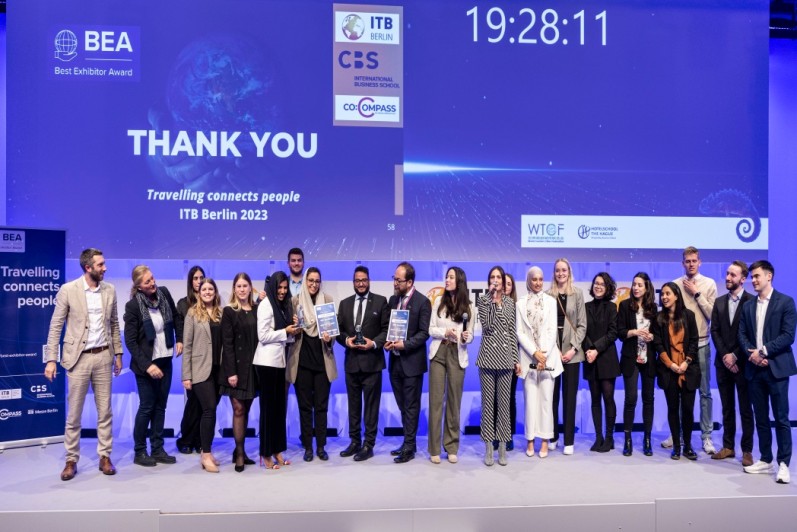 CBS students award the best exhibitors
"Best Exhibitor Award" for the most convincing trade fair presence
March 14, 2023
The Best Exhibitor Award (BEA) celebrated a comeback after a break of several years: On the Thursday of the trade fair, a team of 15 students from the CBS International Business School awarded the best exhibitors at ITB Berlin for the nineteenth time. On the first and second day of ITB Berlin, they examined and evaluated the more than 800 stands of all main exhibitors at the World's Leading Travel Trade Show.
For exhibitors, the Best Exhibitor Award has been an important benchmark indicator of a successful trade show appearance since 2000 - a place among the top three ranks is correspondingly coveted. The project is a cooperation between ITB Berlin, the Cologne-based consulting firm Compass and the CBS International Business School under the direction of Dr. Hanno Martens, Professor of Sustainable Management & Sports Psychology at CBS.
Dr. Martens sees the project as a double opportunity for the students: "On the one hand, the students learn much more from practice in these 3 days than from lectures. On the other hand, they understand more how the tourism industry really "ticks", what challenges it faces and how many different industries it encompasses."
The booths were evaluated in two rounds based on a detailed criteria catalogue in ten categories. Martina Leicher from Compass emphasizes the great achievement of the student team: "Assessing the stands has been a big challenge - especially since the ITB has only lasted 3 days since this year - and also because the criteria catalogue is comprehensive and also requires interviews with those responsible for the stand." The criteria are related to the aspects: Customer Contact, B2B Environment & Booth Performance, Communication & Information as well as Sustainability and the Overall Impression of the booth.
The awards ceremony on Thursday evening opened with a welcome address by Dirk Hoffmann, Managing Director Messe Berlin. He emphasized the importance of the BEA as an honor for outstanding exhibitors, their special creativeness and successful concepts. The winners from all over the world showed their appreciation and joy with cheers and spontaneous dance performances. The CBS motto "Travelling connects people" was truly celebrated that night.
The following exhibitors were awarded in the categories:
Europe: 3. Turkey, 2. Hesse, 1. Canary Islands
Africa: 3. South Africa, 2. Egypt, 1. Morocco
Americas /Caribbean: 3. Ecuador, 2. Colombia, 1. Brazil
Asia/Australia/Oceania: 3. Korea, 2. Thailand, 1. Maldives
Near / Middle East: 3. Sharjah, 2. Qatar, 1. Saudi Arabia
Travel Support & Media: 3. Culture Lounge, 2. NEOM, 1. The Red Sea
Travel Technology: 3. Hotelpartner Revenue Management, 2. Spherie GmbH, 1. Oracle Hospitality
Tourism Organisation: 3. Trip.com Group, 2. Hometogo GmbH, 1. Booking.com
Hotel Business: 3. NH Hotel Group Part of Minor Hotels, 2. BWH Hotel Group, 1. Maritim Hotelgesellschaft MBH
Carriers: 3. Sunexpress Airlines, 2. Lufthansa Group, 1. Deutsche Bahn AG
Best of Best: Saudi Arabia