---
Page content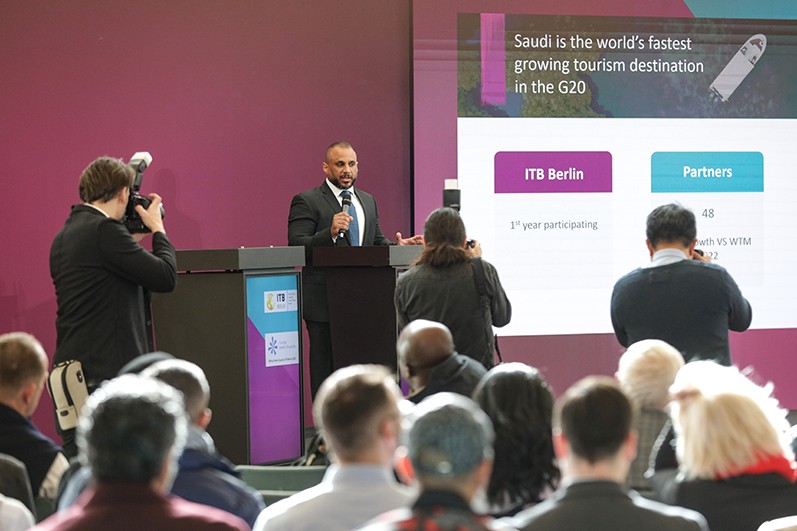 Saudi Arabia – a luxury destination
The Gulf state is exhibiting at ITB Berlin for the first time
March 07, 2023
Saudi Arabia wants to lure more tourists to the country with new hotels, restaurants and attractions at historical sites such as Diriyah and Alula. Increasing hotel capacity and flight routes and easing visa requirements are part of a strategy for the future entitled Vision 2030 which envisions an economic transition towards greater diversity and sustainability. The Gulf state is represented at ITB Berlin for the first time and over the coming days will provide information on new tourism projects on its stand in Hall 3.2.
Saudi Arabia attracts almost two million pilgrims annually with Mecca and Medina, holy sites in Islam. Beyond that however, the country wanted to profit more from tourism, said Hazim Al Hazmi of the Saudi Tourism Authority speaking at the press conference of ITB Berlin at the Palais am Funkturm. The country is currently investing heavily in tourism as part of Vision 2030. As a strategy for the future it wants to reduce oil dependence by strengthening other sectors.
At its press conference on Media Monday at ITB Berlin, Saudi Arabia presented some of its tourist highlights. In the desert city of Diriyah, marketed under the slogan 'The City of Earth', the district of Al Bujairi with its winding streets awaits visitors who take a short half-hour drive from King Khalid International Airport or travel 15 minutes from Riyadh's city centre. The history of the former Saudi capital is documented in museums. According to Abdulrahman Aljefri of the Diriyah Gate Development Authority, there are plans to significantly expand bed capacity around this historical site and build 38 hotels. Expanding the Bujairi Terrace resort to include 21 luxury and mega-luxury restaurants is seen as a gigantic project.
Fascinating rock formations await visitors to Alula. According to Julia Stubenböck of the Royal Commission for Alula Germany, there are plans to increase bed capacity here too to 5,000 rooms in 2030. Visitors can look forward to numerous adventure activities or relaxing – from volcanic tours to wellness applications at Saudi Arabia's first Banyan Tree Resort.
According to Abdullah Al-Zahrani of Red Sea Global, beach holidays in Saudi Arabia are an option too. Currently hotels, apartments and leisure facilities enabling sustainable tourism are being built on the Gulf state's west coast, where travellers can dive down with colourful marine life in the Red Sea and enjoy sports and leisure activities.