---
Page content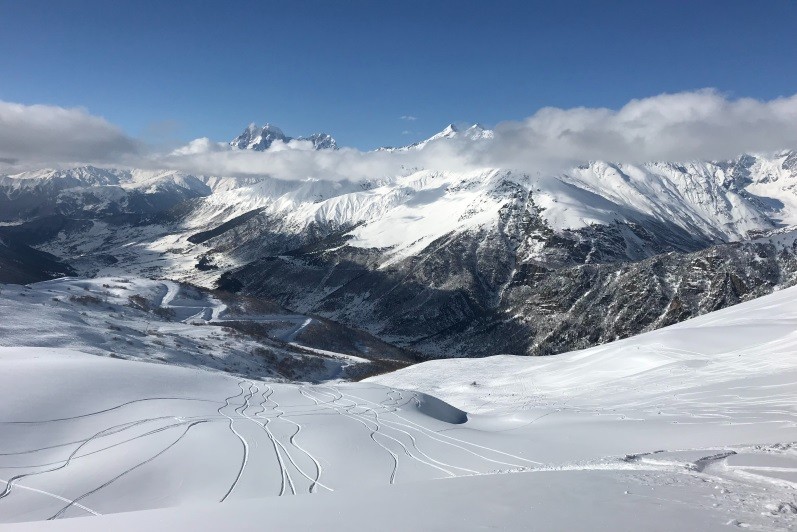 Georgia – full of adventure
Heliskiing and helibiking, ski tours and more: adrenalin guaranteed
March 08, 2023
For fans of adventure tours and mountains Georgia is the place to be. A modern infrastructure to international standards meets a spectacular natural environment: high snow-covered mountains, ravines with fast-flowing mountain rivers, lush green forests, alpine eco-systems, palm-lined beaches and cliffs and caves. At ITB Berlin 2023 tourism experts from Georgia offered an insight into the adventure tours in their country which besides hiking, heliskiing and riding has a lot to offer.
Mountain guide Nick Phaliani has been fascinated by nature in his home country since he was a child. "Today, I am able to practise a job which is my passion in a strong community of Georgian mountain guides", he said. Whether heliskiing, alpine ski runs, ski tours or helibiking, everything is possible. "Last year I had around 50 tours with about 300 guests", Phaliani said. He is glad the Georgian Mountain Guide Association (GMGA), established in 1998, also joined the International Federation of Mountaineering Associations (IFMGA) in 2021. Its president Urs Wellauer from Switzerland recalled that "we began work with Gudauri in 1991. I was particularly impressed with the local mountain guide school where children already learn the basics."
In the five large skiing regions Bakuriani, Gudauri, Mestia, Tetnuldi, Hatsvali and Goderdzi in the Adjara region, winter enthusiasts can find pistes and lifts, cable cars, ski jumps, cross-country skiing trails as well as horse-drawn sleighs and snowmobiles. The skiing region in Gudauri on the southern side of the Caucasus plateau is up to 3,279 metres above sea level and has around 60 kilometres of ski runs of varying degrees of difficulty. The resort is also known for freeriding on natural terrain. Deep snow where rocks are few and the risk of avalanches is low have made Gudauri a mecca for lovers of deep snow sports.
Ia Tabagari of the Lost Ridge Group in Georgia promoted intense riding experiences in her home country. The website Horsebackgeorgia.com offers first impressions of adventure on horseback in fascinating natural surroundings. And when all the adventure tours are over it is still worth noting that Georgia is also an outstanding place for wines. "Winemaking countries like to boast about their history. But we really don't have to be shy", said a smiling Tabagari. "Wine has been cultivated in the foothills of the Caucasus for at least 8,000 years, longer than anywhere else in the world."