---
Page content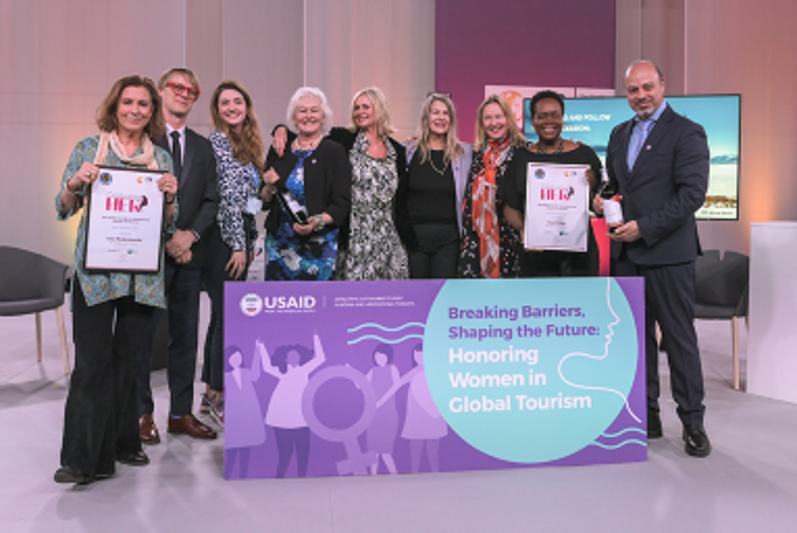 Strong women as examples and role models
Celebrating Her Awards for outstanding achievements by tourism professionals
March 08, 2023
It is indeed a good tradition: for the last six years ITB Berlin and the International Institute for Peace in Tourism (IIPT) have annually presented three Celebrating Her Awards, highlighting the role model of successful women in the tourism industry and honouring their long-standing commitment. This year the three awards were presented in several categories: Tourism Resilience, Tourism Leadership and Tourism Advocacy. The winners were Carol Hay from London, Rupinder Brar from India and Iaia Pedemonte from Italy, who as a freelance journalist a number of years ago set up the Gender Responsible Tourism Association (GRT).
Rika Jean-Francois, CSR commissioner for ITB Berlin, presented the awards to the three winners on Wednesday, praising each of them in a short speech. She highlighted the fact that the awards honoured women for outstanding achievements in their field and for standing by their beliefs and causes. "It is so important to do what one believes in, and that is exactly what the three women we are honouring today have done", Jean-Francois said.
The CSR commissioner for ITB Berlin said that Carol Hay had actually wanted to be a lawyer, but when she was 18 took a flight from London to Jamaica – where her family came from. It was there she discovered a passion for tourism and for a long time she worked for this region from the Caribbean before becoming head of the Caribbean Tourism Organization Chapter UK & Europe in London.
In her acceptance speech Carol Hay said that during her career she had frequently met women who had been a mentor or coach, and that the experience had instilled a passion to help others in her. "We women support each other, but over the course of my career in management I have also often supported and encouraged men", she said.
Working for India's ministry of tourism, Rupinder Brar from India, who took part in the presentation by video link, has lent her weight to improving security at tourism destinations and during the Covid pandemic successfully set up a campaign supporting domestic tourism. She has also launched virtual training programmes for travel guides. While expressing her thanks Rupinder Brar also made the case for visiting her home country which apart from ancient philosophy also had Bollywood, dancing, music and Indian curry to offer. "If you have never been to India then come, and if you have been then come again – we await you", Brar said.
Iaia Pedemonte from Italy said that in her research she had often been inspired by women who had had to respond to crises, by having to clean the streets and repair houses after flooding or earthquakes for example. "Women are also the first to build bridges for peace, sometimes with very unusual tools", Iaia Pedemonte added.