---
Page content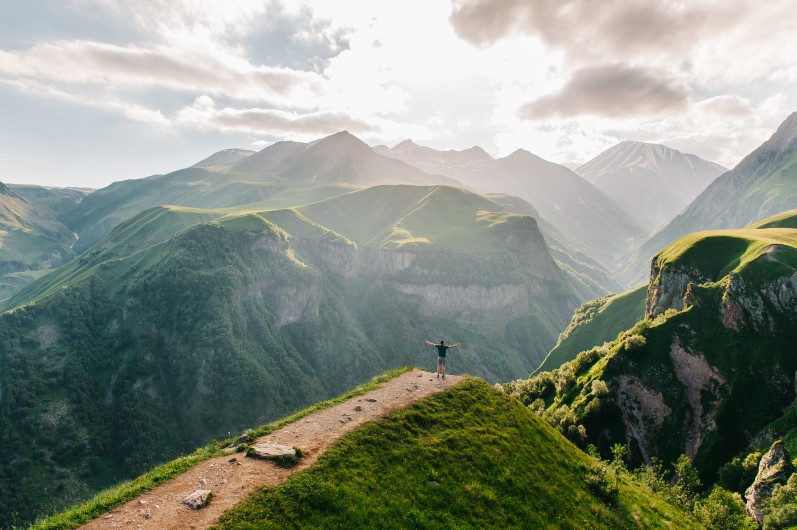 Which season is the best for visiting Georgia? 
Perhaps you planned a trip to Georgia but still thinking about the perfect dates. Don't worry! You can't go wrong, as Georgia, the Host Country of ITB Berlin 2023, is a destination of unforgettable adventures throughout the year. 
30 December 2022
Spring
Georgia explodes with green colors in spring, with a complete rebirth of new life. 
As the weather is pleasant, it is the perfect season for outside walks. Start wandering through the old city. Explore Uplistsikhe and Vardzia carved into cliffs, or travel to the semi-desert and rainbow mountains of Mravaltskaro.  
Georgian streets are full of hidden stories and interesting architecture from various ages; nature is fascinating. If you lack greenery in your everyday life, visit the National Parks in Georgia, and your body will fully reconnect with the healing power of nature. 
Summer
Cool down in the mountains. Feel the delights of Mestia, Tusheti, Khevsureti, and Upper Adjara during the summer, and you'll become part of a fairytale.
Hikers can scale Mkinvartsveri, Ushba, and Tetnuldi, while those looking for something more sheltered can wander into the staggering caves of Sataplia, Prometheus, and Tsona. Overall, there are about 30 caves in Georgia and more than 26,000 rivers, most of which are suitable for rafting or kayaking.
Of course, those looking to party will head to the Black Sea coast with its numerous resorts in summer. Family holidays are also immensely popular at this time of year in Batumi and the surrounding towns and villages.
Fall 
Mountains and valleys, awash with red and yellow colors, are breathtaking during fall. The temperature is usually mild and comfortable, making all regions and their forests, lakes, waterfalls, and caves a glorious experience. Moreover, fall is the favorite season for wine lovers. It's time for the "Rtveli", a must-see wine harvest festival, a tradition that has more than 8000 years of history. 
Winter
Georgian winter is a paradise for ski and snowboarding lovers. The country is rich with modern ski resorts, breathtaking views, and powder snow.
Gudauri, Mestia, Bakuriani, and Goderdzi, where you can ski on- and off-piste, go snowboarding, take a ski tour, or even go heliskiing or paragliding. A whole world of adventure awaits. To top off all these attractions and activities is, of course, the delicious Georgian cuisine, offering a gastronomic delight any time of year.