---
Page content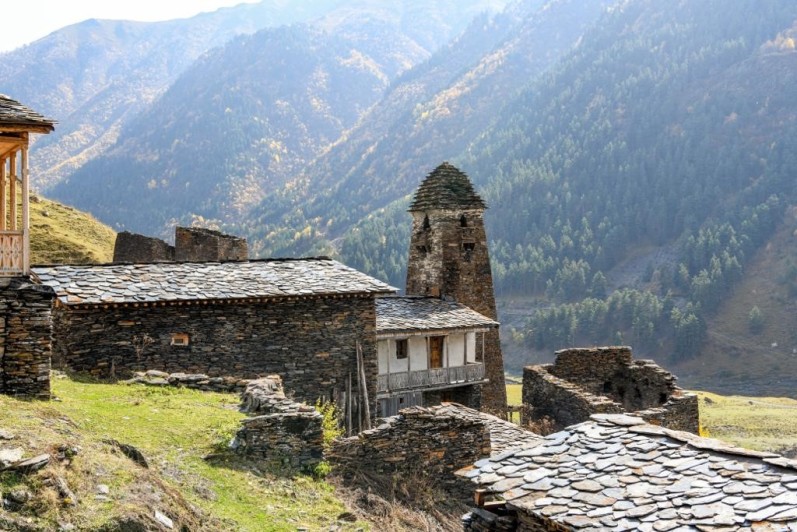 How does it feel to be on top of the world? 
The Official Host Country of ITB Berlin 2023, Georgia, is home to the highest permanently inhabited villages in Europe: Ushguli and Bochorna
29 December 2022
Ushguli is a spectacular village in Upper Svaneti, nearly 2119 meters above sea level. It is a unique example of mountain scenery with medieval-type villages and tower houses. Thanks to its isolated location, Upper Svaneti has preserved unique, centuries-old traditions. Upper Svaneti has been adopted as a UNESCO world heritage site since 1996.
A beautiful village in Tusheti, Bochorna, is 2,345 meters above sea level. No words can describe the beauty of Tusheti. Examples of its characteristic architecture are spectacularly juxtaposed against the mountainous landscape of the region. If you see the village from afar, you will be convinced that it is a snow-covered pearl in the valley.
According to a description from 1954, 25 households engaged in agriculture and lived permanently in Bochorna. In 1980, the place was deserted and had abandoned village status until 2014, when the 76-year-old Irakli Khvedaguridze brought it back to life. As of now, Bochorna has one inhabitant. 
Right after that, a banner was put up in the village stating that it was the highest inhabited point in Europe. Mr. Khvedaguridze is the only doctor in Tusheti region who makes house calls to his patients on foot or horseback. In winter, when the snow cover can reach up to two meters high, the doctor uses his ski to reach his patients. These ski are handmade, all by himself. Explore mountainous Georgia and uncover the stories hidden in the Great Caucasus.