---
Page content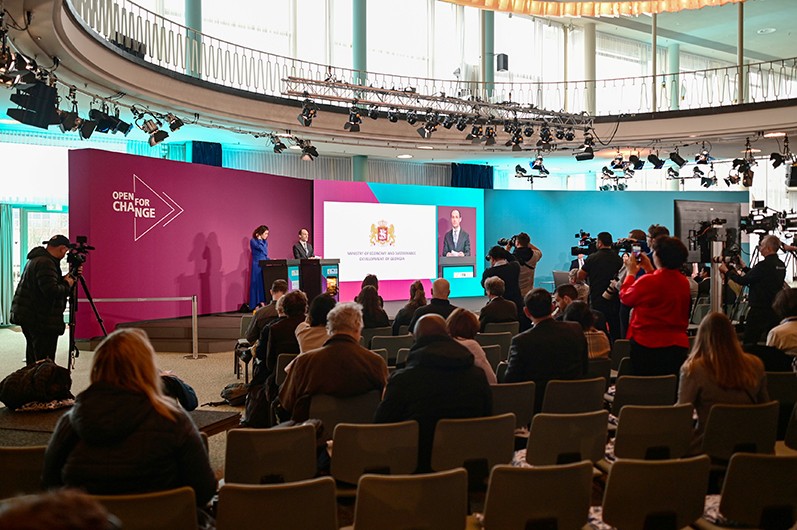 The travel industry is back: A new start for ITB Berlin 2023
Tourism is confronting the latest challenges as a strong community
March 06, 2023
At the opening press conference on Media Monday at ITB Berlin 2023, together with Levan Davitashvili, vice prime minister of this year's host country Georgia, Norbert Fiebig, president of DRV, and Charuta Fadnis of Phocuswright, Dirk Hoffmann, managing director of Messe Berlin, was looking forward to the next few days, during which the focus would be on the latest challenges in the tourism industry. Against the backdrop of Covid and inflation and the situation as a result of war and earthquakes, the tasks facing tourism professionals were immense. It meant working together was all the more important, said Dirk Hoffmann at the opening of the trade show.
In addition to highly popular travel destinations and the latest innovations in tourism, over the coming days at ITB Berlin 2023, which despite a new concept is still as strong as ever, the focus will also and in particular be on how to deal with the latest crises around the world. 5,500 exhibitors from 150 countries are meeting to exchange views on the exhibition grounds in the capital – live for the first time since the pandemic began and as an exclusively B2B event. ITB is taking place from Tuesday to Thursday, accompanied by wide-ranging services, livestreamed and online on ITBXplore.
Georgia is the host country of ITB Berlin 2023. Situated at varying altitudes and featuring 12 climate zones, the country spanning Europe and Asia is a year-round travel destination with a wide range of attractions. The most convincing reason to travel there was Georgians' infinite hospitality, rooted deep in their DNA, said Vice Prime Minister Levan Davitashvili. Georgia was a dream country to visit, and because of its low tax rates and welcoming approach to business founders was equally an outstanding place for investment.
With the world now opening up again after the pandemic, the travel industry should focus entirely on the future, said Charuta Fadnis of Phocuswright, the world's leading travel research organisation. Attention should be given to strategies and establishing a competitive edge. The focus of her research was on the various technology and innovation trends that in future would influence the travel industry, including sustainability, the impact of access and membership programmes, the future of social media and dealing with digital nomads.
DRV President Norbert Fiebig noted the eagerness to travel of the "world's most travelled nation", the Germans, which made him optimistic for the future. Despite the earthquake, bookings for trips to Turkey had actually increased, which was a good sign for a country where so many people depended on tourism. It was important to ensure that future travel would be safe and trouble-free. That desire was reflected in the high demand for package and all-inclusive tours, Fiebig said. That had to include a relaxed trip to one's destination, avoiding the situations that had arisen at airports last year.