---
Page content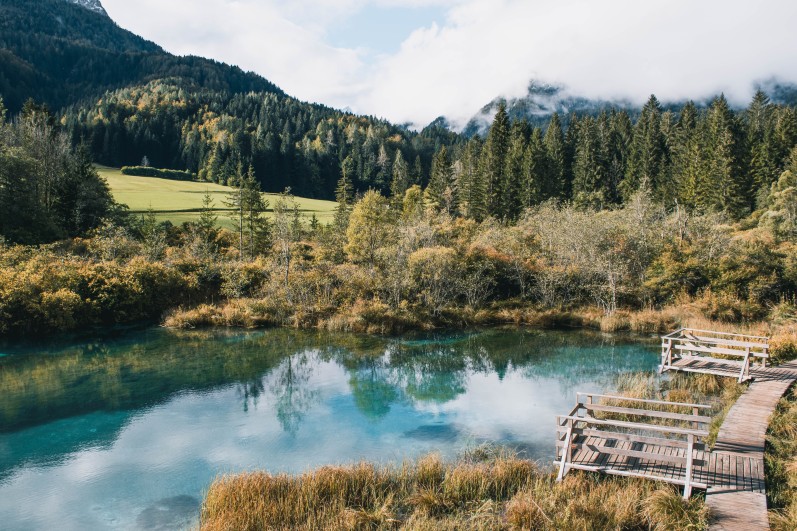 Slovenia is well prepared for the resumption of tourism
March 10, 2022
Sustainability champion presents itself as a "green sports hall"
Whether it is skiing and ski jumping in Planica, kayaking on the Soca or hiking along the Alps – Adriatic trail – Slovenia is a paradise for lovers of the outdoor life, as well as being one of the world's most sustainable destinations. Even well before the coronavirus pandemic the country was fully committed to green tourism, and is now developing this aspect further. This view was shared by those attending the press conference "SLOVENIA – presenting one of the most sustainable and safest countries in the world", organised by the Slovenia Tourist Board. Those attending included Simon Zajc, State Secretary at the Ministry for Economic Development and Technology, Ilona Stermecki, CEO of the Slovenian Tourist Board, Rebeka Kumer Bizjak, Director of the Slovenia Tourist Board in Germany, Matej Kampare, President of Slovenian Outdoor, and Ilka Štuhec, a Slovenian competitive skier and an ambassador for Slovenian tourism.
The various testimonials and the presence of several of the country's ambassadors, inviting people to visit, underlined the fact that the focus is very much on sport and outdoor tourism. They included the professional cyclist and Tour de France winner Tadej Pogacar and the competition skier and multiple world champion Ilka Štuhec, who praised the opportunities that the country offers for outdoor activities. "We are a super-sporting region, not only in the professional sphere but also for leisure sports. We offer so many opportunities, both for summer and winter sports. In fact there is always something to do", was the assurance given by Štuhec.
Slovenia, according to Simon Zajc, has invested more than one billion euros in tourism in recent years, enabling the country to retain most of the jobs and the majority of tourism companies too. "These companies are now ready to resume business", Zajc emphasised, adding that the country was already well established as a green destination well before the pandemic. Efforts are now ongoing to enhance this profile and achieve further qualitative improvements.
There is a particular focus on visitors from Germany, explained Ilona Stermecki. They account for a quarter of all overnights and form the largest contingent of visitors. Attracting even more German visitors is the task of Rebeka Kumer Bizjak, who represents the Slovenia Tourist Board in Germany. At the press conference she enthusiastically described the country's diversity. "Slovenia is like a giant green sports hall, with room for everyone, whether they are skiers, climbers, mountain bikers or people who enjoy hiking", claimed Kumer Bizjak, pointing out that vacationers can explore 10,000 kilometres of marked hiking trails in Slovenia, along with ten ski areas. "And under the ground too, in disused mines, it is possible to go kayaking or cycling", Kumer Bizjak added.