---
Page content

About TRVLX by ITB
In addition to providing virtual formats, it is important for us to satisfy the urgent need for face-to-face meetings by offering fascinating networking events. These completely new events give us opportunities to deliver services throughout the whole year and bring senior decision-makers and relevant providers together in selected destinations. TRVLX is ITB's new B2B LIVE networking event series: In cooperation with destination partners, TRVLX brings together hand-selected industry decision-makers.
Each event is a unique experience, offering numerous networking opportunities, fixed meetings on a speed networking basis and a variety of workshops on current travel industry topics.
TRVLX's debut in 2022 will focus on european buyers.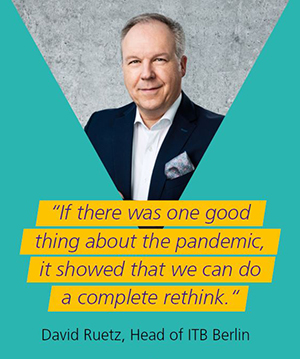 KICK-OFF OF THE TRVLX SERIES IN MAY 2022 IN GEORGIA
Georgia, the host country of ITB Berlin 2023, will be the first host for the new series of in-market events. The exclusive kick-off event will take place from 17 - 20 May 2022 in the country's capital, Tbilisi, as well as other locations in the Caucasus nation. Thereby, buyers and media will meet selected suppliers of Georgia.
In addition to the business day, which will include topic-specific roundtable discussions and networking sessions, the host country will present cultural and historical highlights on selected tours of multifaceted Georgia.
At a glance
Date: 17 - 20 May 2022
Location: Tbilisi and other cities in Georgia
Target market: Georgia
Target group: Selected buyers and journalists from the D-A-CH region